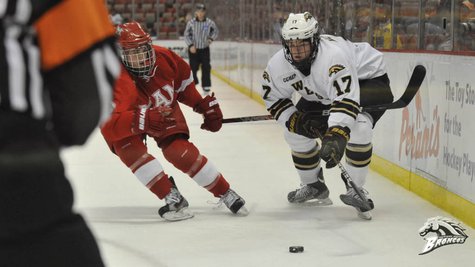 DENVER, CO (WKZO) – Lukas Hafner made his first collegiate start in net for Western Michigan, but the Broncos suffered their second straight defeat, falling 1-0 Saturday night to the Denver Pioneers on the road.
The lone goal of the contest came from David Makowski for Denver on a 5-on-3 power play at the 6:48 mark of the second period. The Pioneers finished 1-for-5 on the man advantage while the Broncos were 0-for-7 on power play chances.
Despite being outshot 15-8 in the final frame, Denver netminder Sam Brittain kept the shutout intact, stopping all 26 Bronco shots on the night. Lukas Hafner stopped 22 shots in his first collegiate start.
Western Michigan (3-5-2/2-2-0 NCHC) opens a non-conference series with Michigan State in East Lansing on Friday, November 22nd. Faceoff is set for 7:05 pm on the Bronco Radio Network .