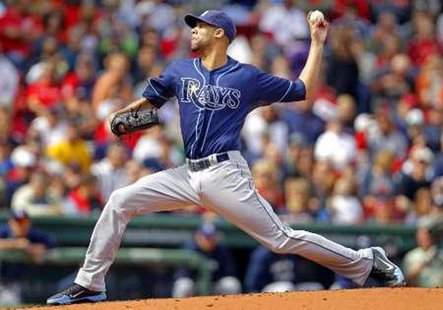 The Detroit Tigers made a big move yesterday in picking up left handed starting pitcher David Price from the Tampa Bay Rays. However did they make the right move?
Now the Tigers did upgrade their left handed starting pitcher by getting David Price for Drew Smyly. You will get no argument from me their. Price is a Cy Young winner and this was Smyly's first year in the rotation and he has been off and on. I think Smyly did better as a long bullpen relief pitcher.
Did the Tigers lose in giving up Austin Jackson? That is yet to be seen. Jackson has been prone to striking out a lot for his career, but in recent weeks he has begun to pick up more hits and has hit two home runs. Rajai Davis will most likely replace Jackson in center field. Davis is faster and will steal more bases which will drive pitchers crazy. Plus, he brings a little more power to the plate. If you need an example check out his walk-off home run against the Oakland Athletics on June 30th.
I believe though the Tigers needed to do something to strenghen their bullpen. Yes they did trade for Joakim Soria, but look how that has worked out so far. He gave up four runs on six hits Tuesday against the White Sox and he hit a batter Thursday to bring home a run. In the rest of the bullpen you have Phil Coke, who has been better of late, but you know you get the antacids out when he comes in the game, Joba Chamberlain, who has given up runs lately, Al Alburquerque, who is inconsistent, and Joe Nathan, who seems to not have the ability to close games on a regular basis.
The Tigers may have one of the best starting rotation's in baseball (Price, Scherzer, Sanchez, Porcello, and Verlander), but unless they are going to pitch a complete game the Tigers are going to lose games because of the bullpen.
Come October I don't believe the Tigers will be World Champs because of their gaping weakness.