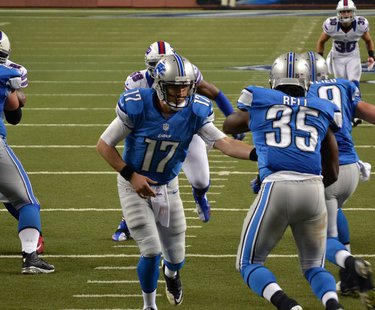 DETROIT (WZKO)- The starters saw little action on Saturday in the Detroit Lions preseason opener against the Cleveland Browns, but the night mostly belonged to Johnny Manziel as he made his NFL debut.
Manziel was 7-11 passing for 63 yards and carried the ball six times for 27 yards.
The Lions found themselves trailing 12-6 late in the game, but with the Lions driving Kellen Moore found Cody Fuller on a 21-yard touchdown pass and with the extra point the Lions took the lead 13-12 with 1:05 left in the game.
Lions kicker Nate Freese kicked two field goals from 37 and 32 yards for the Lions only other points of the night.
Moore finished the night 11-13 passing for 121 yards and one touchdown.
The Lions will travel to the west coast Friday as they do battle with the Oakland Raiders.