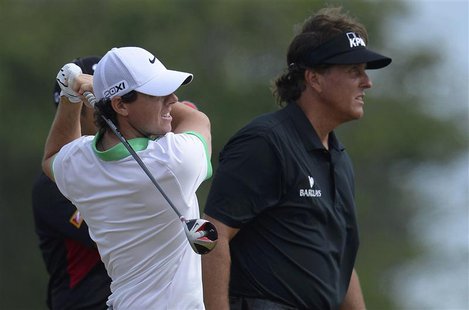 LOUISVILLE (1660 THE FAN)- The weater did not want to cooperate early in the day as the rain poured on Valhalla Golf Club and it looked like some of the final round would have to be finished on Monday. However the final round was squeezed in and Rory McIlroy won his fourth career major title by knocking in a one foot par putt in the dark.
McIlroy did not start the round well as he bogeyed holes three and six, but got a birdie on the seventh to get one shot back. McIlroy eagled the tenth and then proceeded to birdie the 13th hole. McIlroy put away the tournament with a birdie on the 17th to give him a two shot lead at 16 under par.
Phil Mickelson finished one shot back at 15 under par. Mickelson was inches away from chipping in for birdie on the 18th hole which would have tied McIlroy.
Rickie Fowler, who finished in the top five in all four majors, was two shots back along with Henrik Stenson.