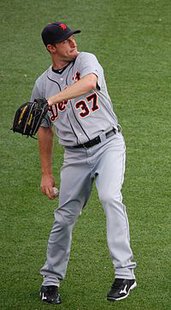 TAMPA BAY (WKZO)- The Detroit Tigers fell behind 4-0 after two innings of play last night and looked like they were on their way to another loss, but the Tigers bats woke up in the fifth inning as the Tigers scored three runs to cut the Rays lead to 4-3.
The Tigers tied it up in the sixth and then JD Martinez hit his 17th home run of the season to give the Tigers a 5-4 lead.
The Rays tied the game up in the bottom of the eighth. However the Tigers pulled ahead for good in the top of the 11th as Grant Balfour walked home Ian Kinsler with the bases loaded. The Tigers added two more runs on a wild pitch and sacrifice fly. The Rays scored one run in the bottom of the 11th, but the Tigers went on to win 8-6.
Jim Johnson picks up the victory and Joe Nathen picked up his 26th save of the season.
Max Scherzer had a no decision pitching seven innings giving up four runs on four hits while walking three and striking out nine.
The Tigers will look to sting the Rays again tonight. The Tigers will send Rick Porcello to the hill while the Rays will counter with Jake Odorizzi. Broadcast time is at 6:45 pm on AM 590 WKZO.