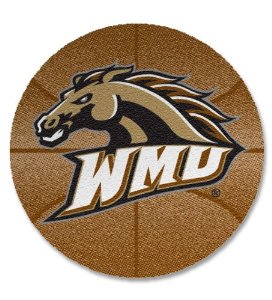 Kalamazoo, MI (WKZO) – Steve Hawkins described his team's play against Bowling Green University as soft after the Broncos failed to close out the Falcons and ultimately lost 69-64 in front of 2437 Sunday afternoon at University Arena.
Anthony Henderson scored 19 high en route to a career-high 27 points, including seven 3-pointers, to help the Falcons erase a 15 point deficit with 14:33 remaining.
Bowling Green trailed 39-27 at halftime (8-9, 2-2 MAC) and took the lead for the first time in the second half at 56-55 with 7:44 to go. The Falcons held WMU scoreless over the last 2:05 and went ahead 65-64 with 1:33 to play.
David Brown led Western Michigan (9-7, 2-2) with 21 points, but missed a potential game tying shot with 10 seconds left. Shayne Whittington contributed 18 points and eight rebounds. Connar Tava had seven points and hauled in 11 boards. Tava was just two boards shy of his season-high 13 against Cornell.
Game Notes: WMU shot 44.9% (22-49) and turned the ball over 18 times, 13 of them coming in the second half…Tucker Haymond had eight points off the bench in 28 minutes…Spencer Parker, Jehnvon Clarke and Richaun Holmes all reached double figures for the Falcons…Whittington had four blocks…Tava had a game high six assists…The Broncos will look to rebound on Thursday night as they travel to Kent State with a battle with the Golden Flashes. Kent State is 11-6 and 2-2 in MAC play. Tip-off is set for 7pm