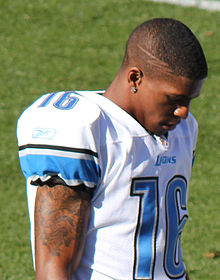 DETROIT (1660 The Fan)- Former Detroit Lions WR Titus Young has been arrested again according to the Detroit Free Press. Young has been charged with a felony, battery with serious bodily injury. He is being held in a Los Angeles Correctional facily with a bail set at $105,000.
The arrrest happened on July 9th.
Young was drafted in the second round back in 2011. For his two seasons in Detroit he caught 81 passes for 990 yards and 10 touchdowns.
Young had behavioral problems, including punching teammate Louis Delmas, and was released from the Lions in 2013.