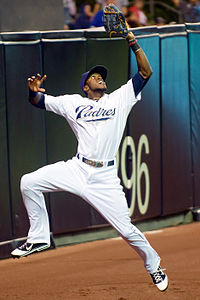 SAN DIEGO (WKZO)- Cameron Maybin has gotten himself into some trouble and it will cost him some playing time. Maybin has been suspended for 25 games after testing postive for amphetamines, Major League Baseball announced Wednesday.
Maybin currently plays for the San Diego Padres and is a former draft pick of the Detroit Tigers. Maybin has had trouble staying on the field due to injuries. Last year he only played in 14 games for the Padres.
Maybin was drafted by the Tigers in 2007. He picked up his first career hit, home run , and stolen base all in the game game on Aug. 18th, 2007.
Maybin traded during the 2007 offseason to the Marlins along with five other players for Dontrelle Willis and Miguel Cabrera.