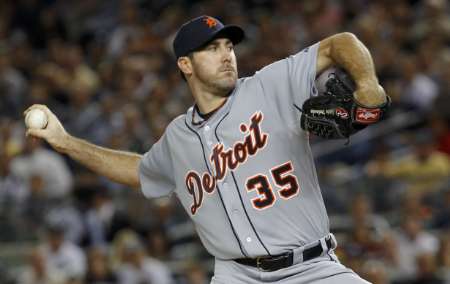 CLEVELAND (WKZO)- Justin Verlander could not get the Cleveland Indians out when he needed to and it cost him as the Tigers fell to the Indians in consecutive nights, this time 6-2.
It looked good early on for the Tigers as Torii Hunter hit a solo home run in the top of the first inning and the Tigers took an early 1-0 lead.
The Indians tied it up in the bottom of the first and then the Indians exploded for four runs in the bottom of the second to take a 5-1 lead.
The Tigers did try to claw back in the game as Alex Avila hit a solo home run in the top of the fifth inning to make it 5-2. The Indians though added another run in the 7th as David Murphy hit a solo home run off of Evan Reed.
Verlander (5-3) takes the loss as he pitched six innings giving up five runs on 11 eleven hits as he walked three and struck out two.
The Tigers will look to salvage a win tomorrow in their series against the Indians. The Broadcast gets going early as we will be on the air at 11:40 am on AM 590 WKZO. Max Scherzer (6-1 1.83 ERA) will start tomorrow for the Tigers and the Indians will counter with Zach McAllister (3-4 5.36 ERA).