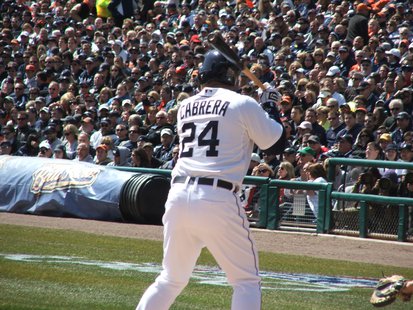 4:39...Tigers go 1-2-3 in the 9th. Game over. Texas 9-2 Final
4:34pm...Worth strikes out two! Last one was a gift.
4:26pm...Danny Worth on to pitch for the Tigers. First time he's ever taken the mound. He has a mean knuckler.
4:24pm...Don Kelly grounds into 4-6-3 double-play to the end the 8th. Texas 9-2 End 8.
4:07pm...Al on the mound replacing Smyly
4:03pm.., End of 7. Tigers down 9-2
3:47pm...Jackson hits a double off the wall in deep left center. Kelly on third, one out. Avila up.
3:44pm...RBI single by Kelly scores Miggy from 2nd. 9-2 Texas
3:40pm...Back-to-back doubles for Hunter and Cabrera and the Tigers have finally scored. 9-1 Texas.
3:36pm...Coke gets the Rangers 1-2-3.
3:30pm...Tigers go down in order.
3:24pm...Moreland grounds out, leaving the bases loaded.
3:19pm...Reed exiting the game with the bases load and two outs. 45 pitches for Reed. Phil Coke takes the mound.
3:11pm...Two on no outs for the Rangers after error by Romine.
3:05pm...1-2-3 inning for Darvish. End 4 Texas 9-0
2:55pm...9-0 on two-run single from Choice, I feel bad for those at the game.
2:53pm...Kinsler makes nice stop but flip to Romine at 2nd is late. Bases loaded.
2:51pm...Moreland walks, two on, two outs.
2:49pm...Rios to second on wild pitch.
2:46pm...Infield single for Rios. He's 2-for-3.
2:42pm...Choo goes deep to left field, 7-0 Texas. Failed double-play comes back to bite them. Ray done for the day. Evan Reed pitching now.
2:40pm...Kinsler bobbles but recovers and gets the force at 2nd but can't turn the double-play. Hopefully it won't come back to haunt them. Ray needed that turned to build some confidence. Choo up.
2:38pm...Another hit for the Rangers. Martin singles to center to start the 4th.
2:35pm...V-Mart flies out to center to end the inning. Tigers are 0-5 with RISP. 5-0 Texas End 3.
2:34pm...Cabrera lines out to Beltre at third. Kinsler picked off at second. Two down.
2:33pm...Tigers with two runners on after Torii walks. Miggy up.
2:30pm...Robertson on his feet but coming out of the game. Leonys Martin will take over in centerfield.
2:28pm...Robertson takes a knee to the face as Alex Rios slides trying to avoiding colliding on a looper from Kinsler. Kinsler safe at second.
2:24pm...Sardinas grounds into MUCH needed 4-6-3 double play. Texas 5-0 Mid 3.
2:23pm...Evan Reed warming up now.
2:21pm...Choice walks on five pitches. Bases full.
2:21pm...No one warming up for the Tigers.
2:19pm...The hits continue for Texas, Gimenez singles to right. Three hits for the Rangers in the 3rd, seven total.
2:17pm...Upheld, 5-0 Texas. Moreland on first, one out. E-3 on the play.
2:14pm...5-0 Texas. Moreland bounces passed Cabrera, Beltre scores from 2nd but play is under review. Looks close, not enought to overturn IMO.
2:10pm...Castellanos with the nice back handed snag at third and gets Rios for the first out of the inning.
2:08pm...Beltre doubles in two runs, 4-0 Texas. Still no outs.
2:06pm...Choo walks on full count. Runners on first and second no outs. Beltre is up.
2:02pm...Andrus singles thru the middle of the infield, had reached base twice today. Walked in the first.
1:59pm...Romine grounds out to end the inning. He has two hits in his last 31 at bats. 2-0 Tex End 2.
1:56pm...Avila advances to 2nd on wild pitch. Castellanos flies out to center on the next pitch. Two outs. Romine up.
1:54pm...Avila draws one out walk. Castellanos up.
1:51pm...Jackson rips one right at Beltre at third for the first out. Jackson is in a 2-for-30 slump.
1:48pm...Robertson grounds out to third leaving two in scoring position. 2-0 Tex Mid 2
1:45pm...Ray saved on ground rule double by Sardinas. Gimenez would have scored easily had the ball not gone over the left field wall. Two down, leadoff man Robertson up.
1:41pm...Chris Gimenez loops a single to right scoring Rios. 2-0 Texas.
1:40pm...Rios tags from second to third on fly out to center by Moreland. One out.
1:37pm...1-0 Texas on an RBI double from Alex Rios. Beltre slides passed Avila at home.
1:36pm...Second straight inning leadoff man is on for the Rangers as Beltre walks.
1:33pm...Kelly flies out to right stranding two runners. End 1 0-0
1:31pm...After an eight pitch at-bat, Darvish gets V-Mart swinging.
1:25pm...Cabrera rips a single inbetween short and third. Torii moves up to second. The AL BA leader is heading to the plate. V-Mart has homered in three out of the last four games.
1:21pm...Torii grounds into fielder's choice to short. Beats out throw. Miggy up. Cabrera is 3-for-12 career against Darvish.
1:19pm...Kinsler walks on four pitches.
1:17pm...Due up for the Tigers: Kinsler, Hunter, Cabrera. Kinsler facing his former teammate in Darvish.
1:16pm...Strike em out, throw em out, Andrus caught stealing as Choo swings and misses on 1-2 count. Mid 1 0-0
1:13pm...Elvis Andrus walks on full count. Threat to run. Shin-Soo Choo up.
1:11pm...Robbie Ray with a nice pick-off move. Robertson nailed at second.
1:09pm...Dan Robertson loops one to center for a single. He was hitting .158 entering the game.
After a nine-game road trip the Tigers return to Comerica Park for a four-game series with the Texas Rangers. Here are today's lineups:
Rangers P.Yu Darvish (R) 1. Daniel Robertson (R) CF 2. Elvis Andrus (R) SS 3. Shin-Soo Choo (L) LF 4. Adrian Beltre (R) 3B 5. Alex Rios (R) RF 6. Mitch Moreland (L) 1B 7. Chris Gimenez (R) C 8. Michael Choice (R) DH 9. Luis Sardinas (S) 2B Tigers Robbie Ray (L) 1. Ian Kinsler (R) 2B 2. Torii Hunter (R) RF 3. Miguel Cabrera (R) 1B 4. Victor Martinez (S) DH 5. Don Kelly (L) LF 6. Austin Jackson (R) CF 7. Alex Avila (L) C 8. Nick Castellanos (R) 3B 9. Andrew Romine (S) SS