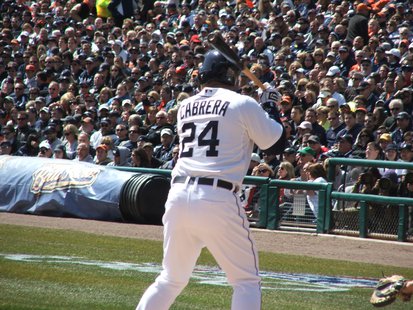 Detroit, MI (WKZO) – Robbie Ray allowed seven runs on nine hits and four walks as the Texas Rangers beat down on the Tigers Thursday afternoon 9-2.
Making his third career start but first in 10 days, the 22-year left acquired in the Doug Fister trade, was torched for two runs in the 2nd, three in third and two of the four scored in the fourth by the Rangers. Evan Reed gave up the final two runs of the fourth after coming on with one out.
Miguel Cabrera had two hits including an RBI double during the Tigers two-run sixth inning off Rangers' starter Yu Darvish. Darvish collected his fifth career win against the Tigers after tossing seven innings, giving up six hits and three walks while fanning six.
The Tigers used six pitchers including position player Danny Worth, who allowed a hit but struck out two throwing all knuckleballs.
After winning six in a row, the Tigers are now dropped four in a row. The Tigers and Rangers continue their four-game series on Friday night. Anibal Sanchez takes the hill for Detroit against Scott Baker. First pitch is set for 7:08pm.