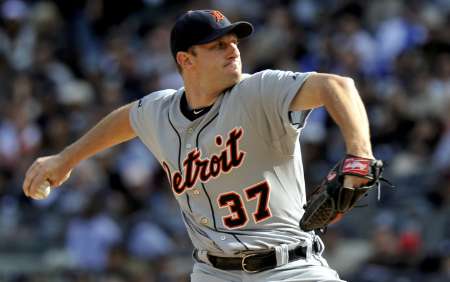 1:28am...Swing and a miss! Tigers win 6-5.
1:25am...Crisp grounds out to a diving Cabrera at first who flips to Nathan covering the base for the 2nd out. Derek Norris up, last chance for the A's.
1:22am...Kinsler makes up for an 0-for-5 day with a running over the shoulder catch for the 1st out.
1:19am...1-2-3 go down the Tigers. We head to the bottom of the 9th. Joe Nathan on to close out the game for the Tigers. He will face the Sogard, Crisp, Norris.
1:17am...Kinsler goes down swinging for the 2nd out of the 9th. Kinsler's 11-game hitting streak comes to an end.
1:11am...Joba needs just 11 pitches to get the A's 1-2-3 to end the 8th. Tigers 6-5 End 8. Due up for the Tigers: Romine, Kinsler, Hunter
1:06am...Joba on for the Tigers
1:04am...Avila strikes out. Tigers 6-5 Mid 8.
1:02am...Jackson grounds into fielder's choice off of A's new pitcher Gregerson, scoring Davis from third. Tigers in the lead 6-5, two outs.
12:58am...Nick works the count full and walks. Last batter for Abad.
12:56am...Davis takes 3rd. 2-2 count on Castellanos.
12:53am...Davis advances to 2nd on passed ball.
12:52am...Castellanos on to pinch hit for Kelly and take over at 3rd.
12:51am...JD walks with one out. Raja on to pinch run.
12:48am...New pitchers for the A's. Fernando Abad, lefty, faces V-Mart.
12:45am...Al gets the A's 1-2-3 after replacing Krol. 5-5 End 7. Due up for the Tigers: Martinez, Martinez, Kelly.
12:41am...Kelly playing in short right for the shift, catches foul pop out, two outs.
12:40am...Donaldson hits a shot at Kelly at third. Gets the force at 2nd. One out.
12:38am...Krol faces Derrick Norris and is done. Alberquerque is on now.
12:35am...Max's day is done. Ian Krol on for the Tigers.
12:33am...We head to the stretch after Cabrera flies out to right field. 5-5 Mid 7
12:32am...With two outs, Torii Hunter homers to centerfield, tying the game at five.
12:27am...New pitcher for the A's. Dan Otero takes over on the mound.
12:25am...Crisp pops out. A's 5-4 End 6. Due up for Detroit: Romine, Kinsler, Hunter
12:23am...After retiring the first two A's in the 6th, Sogard reaches on an infield single. Crisp up.
12:16am...On what will probably be his last pitch, Gray gets Avila swinging for the 3rd out. A's 5-4 Mid 6.
12:12am...Jackson grounds into fielder's choice. Avila up with two outs.
12:05am...JD Martinez singles up the midle to start the 6th for Detroit.
12:03am...First time tonight Scherzer gets the A's 1-2-3. A's 5-4 End 5.
11:58pm...Wild pitch by Gray and V-Mart attempts to steal 2nd but is gunned out. A's 5-4 Mid 5.
11:57pm...With two outs, V-Mart hits looper to left, Cespedes dives but can't come up with it, Victor safe at first.
11:49pm..Hunter starts the 5th for the Tigers with a long fly ball out to right field. Reddick had to leap at the track to catch it.
11:44pm...Jaso's arm seems to be alright as he puts the A's in the lead with a two-run shot down the right field line. A's 5-4.
11:39pm...Flyball out to right. Callaspo tags to third. One out.
11:38pm...Scherzer balks, runners advance scoring a run. Tigers 4-3.
11:36pm...A's have runners on the corners after back-to-back singles. No outs.
11:31pm...Avila stranded at 2nd after Gray gets Romine and Kinsler out. Tigers 4-2 Mid 4.
11:27pm...Avila blasts one to center field, bouncing off the top of the wall and scoring Jackson. Avila gets to 2nd. Tigers up 4-2.
11:25pm...Jackson singles with one out.
11:19pm...Check swing grounder to Kelly ends the 3rd. Tigers 3-2 End 3. Due up for the Tigers: Kelly, Jackson, Avila
11:17pm...Back-to-back K's as Cespedes goes down swinging,
11:14pm...Brandon Moss goes go on three pitches, Scherzer's first K of the day.
11:12pm...Donaldson follows with a walk. Runners on 1st and 2nd, no outs.
11:08pm...Jaso gets plunked in the left arm. Foreman is swollen. Looks painful, but he'll stay in the game.
11:01pm...The two Martinez go down back-to-back. Tigers 3-2 Mid 3.
10:57pm...With out out and down 1-2 in the count, Cabrera blasts a fastball to left field, his 8th home run of the year. Tigers regain lead 3-2.
10:52pm...Flyball, popout ends the A's inning. 2-2 End 2. Hunter, Cabrera, Martinez due up for the Tigers.
10:46pm...A's tying it at two after Callaspo slaps a double down the left field line.
10:44pm...Josh Reddick pops out to Kinsler. One out.
10:43pm...Following an infield single by Cespedes, Lowrie doubles to center, scoring Cespedes. Lowrie should have gotten to third after Jackson bobbled it. Safe at 2nd. Tigers 2-1, no outs.
10:38pm...1-2-3 inning for Gray. Tigers 2-0 Mid 2.
10:35pm...Avila attempts to bunt, Gray gets him at first easily.
10:32pm...Back-to-back fly balls end the inning. Tigers 2-0 End 1. Avila, Romine, Kinsler due up for the Tigers.
10:29pm...Jaso draws walk on full-count. Donaldson up.
10:26pm...Call stands. A's lose challenge.
10:24pm...Crisp attempts to steal third on the first pitch to Jaso, called out but A's will challenge.
10:23pm...Coco Crisp doubles down the line in left for the first hit for the A's.
10:19pm...Jackson hits chopper to third, stranding two runners. Tigers 2-0 Mid 1.
10:17pm...Kelly swings at the first pitch and rips it to first. Runners hold. Two outs, Jackson up.
10:16pm...Ausmus looking for a smart man for starting JD, as he doubles to the right center gap scoring Cabrera and moving V-Mart to third. One out, Don Kelly up.
10:14pm...Four pitch walk issued to V-Mart. JD Martinez up, getting the start in left inplace of Raja Davis.
10:13pm...Cabrera singles up the middle, Hunter scores easily from 2nd. Tigers 1-0. One out, V-Mart up. Victor still leads the AL in hitting at .341.
10:11pm...Hunter doubles to left field. Cabrera up.
10:09pm...Kinsler hits a rocket to Donaldson at third who picks it and throws to first getting Kinsler out.
10:08pm...First pitch is a strike from Gray to Kinsler. Kinsler returns to the lineup after receiving the day off yesterday.
We are just a few minutes away from the second game of a four-game series between the American League's top two teams, the Detroit Tigers and Oakland Athletics. After winning seven of eight, the Tigers have dropped seven of eight, including three in a row while being out-scored 34-6. Looking to the change their losing ways, Max Scherzer takes the mound for Detroit following his worst outing of the season six days ago against the Cleveland Indians. Here at today's lineups:
Tigers P. Max Scherzer (R) 1. Ian Kinsler (R) 2B 2. Torii Hunter (R) RF 3. Miguel Cabrera (R) 1B 4. Victor Martinez (S) DH 5. J.D. Martinez (R) LF 6. Don Kelly (L) 3B 7. Austin Jackson (R) CF 8. Alex Avila (L) C 9. Andrew Romine (S) SS Athletics P.Sonny Gray (R) 1. Coco Crisp (S) CF 2. John Jaso (L) C 3. Josh Donaldson (R) 3B 4. Brandon Moss (L) 1B 5. Yoenis Cespedes (R) LF 6. Jed Lowrie (S) SS 7. Josh Reddick (L) RF 8. Alberto Callaspo (S) DH 9. Eric Sogard (L) 2B