« Shows & Personalities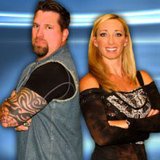 Fox Sports Tonight
On Air:

Weekdays, 10pm - 1am; Saturday, 5pm - 7pm
About the Show

During Rob Dibble's seven-year MLB career, he was a two-time All-Star and the 1990 NLCS "Most Valuable Player." Dibble first hit the broadcasting scene in 1998 as a baseball analyst for ESPN, largely working on "The Dan Patrick Show." He then co-hosted FSN's "The Best Damn Sports Show Period," followed by a stint as a weekend baseball analyst on FOX. Rob went on to co-host XM radio shows "First Pitch" and "The Show," and later served as co-analyst for a weekly online video segment entitled "Around the Bases" on FOXSports.com. Dibble served as FOX Sports Radio's MLB analyst for several years, and officially joined FOX Sports Radio's lineup in 2009 when he began broadcasting a weekend show for the network. He now hosts FOX Sports Radio's weeknight program, "FOX Sports Tonight" with six-time Olympic Gold Medalist Amy Van Dyken.

Amy At the age of six, when a doctor suggested she take up swimming to help relieve her asthma, the thought of becoming an Olympic champion was far from Amy Van Dyken's mind. However, at the Centennial Olympic Games in Atlanta, Georgia, Van Dyken won two individual medals and two team medals to become the first American woman ever to win four gold medals in a single Olympics. This feat made her the most decorated athlete male or female, of the 1996 Games. She left the Olympic Games with five career best times, four gold medals and three American Records.

Amy enhanced her distinguished repertoire of Olympic achievements by adding three Gold Medals from the 1998 World Championships in Perth, Australia. Overcoming two shoulder surgeries, Amy earned two more Gold Medals in the Olympic Games in Sydney, Australia bringing her Olympic Gold Medal total to six. To cap off her extraordinary swimming career, Amy was inducted into the International Swimming Hall of Fame in 2007 and the Olympic Hall of Fame on 2009.